Home > State Divorce Resources and Professional Directory for All 50 States

State Divorce Resources and
Professional Directory




The resources and professional directory is a service we provide to help our visitors find businesses and professionals who can serve them. To find resources, businesses and professionals in your state, click on the appropriate state link below. For a nominal fee, you can add your professional listing to our directory. For child custody information by state, you can visit our child custody by state page.







CHILD CUSTODY E-BOOK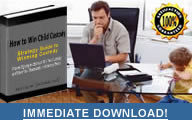 "I have perused Steve Carlson's E-Book "How to Win Child Custody." It is well-written, timely and chock-full of great information for everyone from the lay child custody litigant, to pro se'er, to experienced attorney and to parenting coordinator. While it is mainly geared toward California law much of Steve's advice does apply to all 50 states. I highly recommend it. Too bad it wasn't written 20 years ago when I was going through my own contentious custody battle." Dean Tong, MSc., Forensic Trial Consultant
Abuse-Excuse.com
"When traveling the rapids of family law court, educating yourself is the best strategy available. How to Win Custody will enhance a positive outcome in a family law child custody case. This practical guide is loaded with valuable information that anyone involved in family law court needs. How to Win Custody will save money and more importantly help parents achieve their goal of how to successfully share their children." Jayne A. Major, Ph.D., Parenting Education Expert, Published Author
Breakthrough Parenting Services, Inc.
| | |
| --- | --- |
| | "A practical, up-to-date resource for divorced parents who want to remain actively involved in their children's lives. Fathers and daughters will inevitably benefit from Mr. Carlson's clear headed, insightful guidebook." Dr. Linda Nielsen, Professor of Women's Studies and Adolescent Psychology at Wake Forest University |
"The 'How to Win Child Custody' book by Steven Carlson is an excellent, practical guide to divorce and custody issues that would serve any parent well. Affordable and well-written, it would be a valuable tool at twice the price. 'Highly Recommended'" SPARC - Separated Parenting Access & Resource Center
DeltaBravo.net
| | |
| --- | --- |
| | "I've spent tens of thousands on attorneys but Steven Carlson 'The Custody Coach' is the best money I have spent since my divorce began. The knowledge and insight he has is priceless. The advice and direction he gave me was invaluable." Dennis Hearne - Oak Hills, CA |